Rex Frost is the Exe Stakeholder Representative.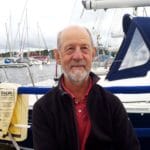 Rex is an ex-naval officer and experienced commercial yachtsman with great experience on the Exe Estuary. He has been the chair of the Exmouth Water Users Group for over 10 years and is also the chair of the Port User Group (PUG).
Rex's experience on the Exe makes him a great advocate for users of the estuary and provides a voice for stakeholders.