Upcoming Clean-Ups
UPDATE: Tickets for the Exe Autumn Clean-Up have now SOLD OUT!
Please keep an eye on the Eventbrite page as some tickets may have been refunded. 
Please cancel your tickets online if you can no longer make it, so others can book a place.
The Exe Autumn Clean-Up is BACK! We are super happy to be able to host this event after a year out due to COVID-19! 
BOOKING FOR THIS EVENT IS ESSENTIAL
This is a ticketed event, therefore only those with tickets will be able to join in the clean-up, and attend the Stuart Line Cruise.
Families are welcome, as are friendly dogs on leads; children must be accompanied by an adult.
Award-winning Krispies Fish & Chips will be served to volunteers aboard a free trip on the beautiful estuary with Stuart Line Cruises departing at 4pm promptly (boarding at 3.45pm). The fun and upbeat ACE Music jazz band will be aboard the cruise, bringing life and soul to the post-clean celebrations.
Meeting Point: Imperial Recreation Ground Slipway before 1pm.
Travel: Parking will be pay and display for this event, please use public transport if possible.
Equipment: Due to COVID, we will be supplying disposable gloves (please bring your own if you can). A limited amount of equipment is provided, but again, please bring your own if you have them. Wear sensible clothing for the weather and footwear such as wellies or old trainers (the estuary foreshore is wet and muddy), and bring sun cream just in case!
Bring a bucket and / or sledge if you have one, to help transport rubbish back to shore.
COVID measures:
* In order for us to implement Track and Trace for the event, only those with tickets will be able to join in the clean-up.
* We will be sanitising all equipment before and after the event, but please bring your own if you can.
* We will provide a hand sanitizing station, but please bring your own if you can.
* Please try to keep to the groups you booked in (or small groups) during the clean-up to minimise contact with others.
* We will provide disposable forks for your Krispies Fish and Chips aboard the Stuart Line Cruise
* If you experience any symptoms of COVID-19 please do not attend the event.
* If you have any COVID concerns or queries, please do get in touch.
Further details will be sent to volunteers closer to the date of the Clean-Up.
If you have any questions, please email exeestua@devon.gov.uk
---
It's not all about big clean up events, you can still do your part and we want to encourage users of the Estuary, surrounding beaches and Exe Estuary Trail to get involved. Please do follow the latest COVID-19 government guidelines. If you need some inspiration then check out these fantastic initiatives below:
Why not tag us on social media and inspire others to do their part? Use the hashtag #ExeBeachClean and tag us on Twitter @Exeestuary
If you are organising your own beach clean or litter pick please check out our  'Organising your own litter picks' page before heading out,
If you would like to be added to our database to receive invites to future Clean-Up events, please contact the Exe Estuary Officer.
---
Traditional EEMP Beach Clean Events
The Exe Estuary Management Partnership traditionally holds Clean-Up events twice a year. Our spring Clean-Up is normally held in May and our autumn Clean-Up would take place in September. Within a couple of hours our volunteers clear tonnes of rubbish from the Estuary and can make a huge difference to the condition and safety of this fantastic site. Volunteers attending our autumn Clean-Up are able to enjoy a complimentary River Exe Cruise, donated by Stuart Line Cruises, with Fish and Chips, donated by Krispies, and can relax, celebrate and admire the scenery and wonderful work they have achieved.
Litter has detrimental effects for our wildlife, our environment and our economy.
The presence of litter on the Exe not only devalues the beauty and enjoyment of the Estuary but can impact upon our tourist industry which many local businesses rely on. We can all help to make a difference by remembering to take our litter home with us or using bins provided when visiting the Estuary.
Litter is a particular problem for our marine environment. It causes the death of thousands of sea birds – and other marine life – every year as they ingest it or get tangled up, eventually dying through choking or strangulation.
If you are a business or organisation that would like to support these events in some way, please get in touch with the Exe Estuary Officer at exeestua@devon.gov.uk or 01392 382236.

---
Autumn Clean-Up: 14th September 2019 at Exmouth LNR
The big Exe Clean-Up brought together 110 volunteers and several local businesses to clear hazardous rubbish from the popular beauty spot in Exmouth. In the bi-annual clean-up event, piles of rubbish were pulled from the estuary, making it safer for visitors to the Local Nature Reserve in Exmouth.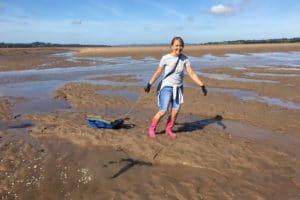 Hazardous items such as sheets of metal, broken crab pots, rusting car wheels and glass were removed from the area, creating a safer environment for recreational users, families and the protected local wildlife. Some of the more unusual items found included rolls of carpet, a mop head and an ornate clay smoking pipe. Volunteers got creative at this event and used old sledges to drag the larger items of rubbish back to shore… better than trying to carry them!
Several local businesses stepped in to support this large clean-up of the estuary. Volunteers were treated to a delicious hot meal from the award-winning Krispies Fish & Chips, voted one of the best chip shops in the UK, and were provided with fresh fruit from McDonald's before the clean-up. Stuart Line Cruises, who are a long-term sponsor of these events, also took all volunteers on a cruise of the estuary after the clean-up, where volunteers were treated to a lazy seal basking bobbing around on a mooring! On board the cruise, ACE Music filled the sea air with jazz tunes. Equipment for the clean-up was very kindly donated by Clear-Reach Exterior Cleaning Specialist and East Devon District Council was able to remove and recycle the rubbish collected.
Chair of the Exe Estuary Partnership, Cllr Jeff Trail BEM said: "Over the many years that the partnership has coordinated clean-up events, there has been a significant decrease in rubbish found in the area. This is a very promising sign, indicating that the clean-ups are having a positive effect on the health of the estuary and that people's attitudes towards rubbish are changing. I would like to thank everyone who contributed to the event with such enthusiasm."
Cllr Richard Scott said: "The partnership continues to go from strength to strength, the clean-up and other events around the estuary demonstrate the high levels of engagement from residents, user groups and businesses. I would like to thank all involved in the day and in particular the businesses that supported the clean-up and entertained all the volunteers."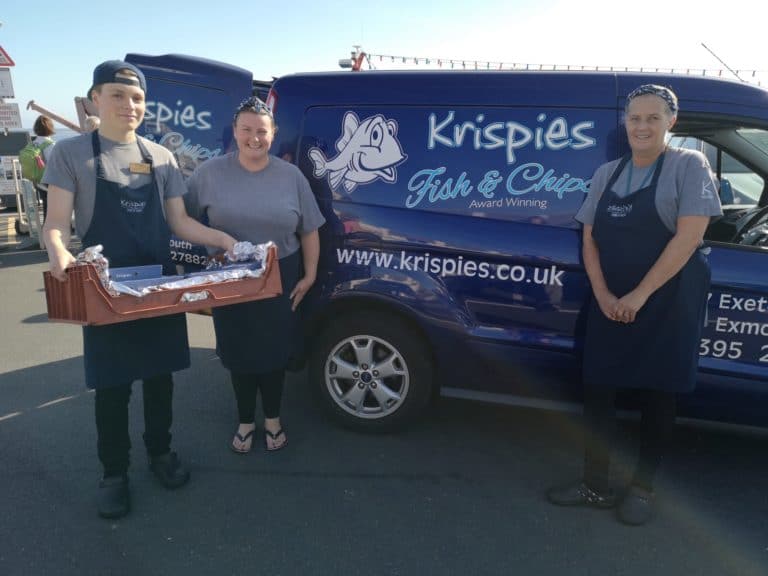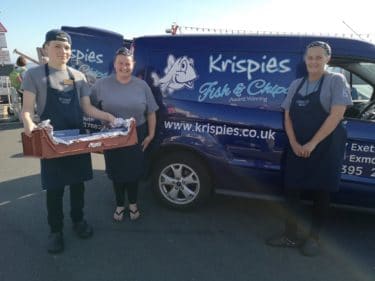 The owners of Krispies Fish & Chips, Tim and Kelly Barnes said: "Krispies are delighted to once again support the Exe Estuary Beach Clean. We are passionate about keeping our local environment clean so wildlife can thrive, and everyone is able to enjoy this incredible piece of coastline."
Exe Estuary Officer Stephanie Harper-Chung said: "The dedication of the volunteers and local businesses who offer their time to look after our protected estuary is outstanding. These people make a massive difference to the health of the Exe and I'm proud to be a part of this community.