Woodbury Parish Council (WPC) is one of four parish councils that sit on the Exe Estuary Management Partnership.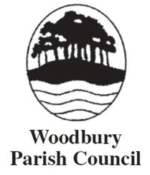 WPC exists to represent the interests of the whole Woodbury community. With 'Gillbrook' originating on Woodbury Common, running through Woodbury village and subsequently into the River Exe via Exton, Woodbury parish is directly connected to the Exe Estuary. Policies in the rural environment effect the estuaries well-being.  With multiple entry points onto the Exe and wide ranging vista's over the estuary the Parish Council is keen to protect the natural environment.
Woodbury Parish Council's representative is Councillor Philip Jordan
Philip lives in Exton and is keen on environmental issues and the importance of the Exe Estuary and its habitats.  Philip is Woodbury Parish Council's representative on the committee and is keen to protect it's attributes for all to enjoy."
Woodbury Parish Council's supporting officer is Anne-Marie Bates, Clerk to the Council.