Easy Access Guide – routes around the estuary
A downloadable PDF version of the guide can be accessed here.
Route length
4 miles / 6.4 km (approx.) or 2 miles / 3.2 km) one way
Grading of route / Accessible wheelchair and mobility scooter suitability.
The whole of this route, using the Exe Estuary Trail and adjoining paths and pavements, is accessible for wheelchairs, small mobility scooters (4mph), power chairs and larger mobility scooters (8mph).  It is also suitable for families and pushchairs.
Users can choose to do the whole route or part of the route.
The Exe Estuary trail runs from Exmouth to Exeter Quay and then on to Dawlish Warren.  The whole Exe Estuary Trail is wheelchair and mobility scooter accessible on tarmac paths, pavements and wooden boardwalk.
Site description
This route follows the Exe Estuary Trail from Exmouth Station to Lympstone, a beautiful, historic village on the banks of the Exe Estuary. Along the route you can enjoy stunning views of the estuary.
The Exe Estuary is an internationally important site for wildlife. Please take care not to disturb the birds and other wildlife as this can impact on their health and survival.  Keep to the trails and please keep dogs on a lead.  Find out more at https://www.exe-estuary.org/.
Route description
This route joins the Exe Estuary Trail near Exmouth Station and follows the trail, alongside the railway line and adjacent to the estuary to Lympstone Village; it then returns via the same route.  This is just one section of the Exe Estuary Trail, a multi-use route built by Devon County Council; the full route runs from Exmouth to Exeter Quay and then to Dawlish. Both Exmouth and Lympstone are on the Avocet Rail line with a regular half-hourly service, so you can continue further or catch a train back to the start. Most of the route is a hard surface with a wide path.  There are some areas on road or narrow pavements in Lympstone Village and a short section of wooden boardwalk on the trail. The Exe Estuary Trail is a shared path with cyclists and walkers.
Toilets
There are toilets, including wheelchair accessible toilets, at Exmouth Train Station and Lympstone Village Car Park (radar key required for accessible toilets).
Parking
Parking is available at Exmouth Train Station /Long Stay Car Park on The Royal Avenue in Exmouth (EX8 1EN).
To complete the route in reverse, parking is also available at Lympstone Village Car Park (EX8 5HH).
Refreshments
There are numerous food shops, cafés and restaurants in Exmouth and there are pubs and a café at Lympstone.
Public transport
Rail links to Exmouth and Lympstone Stations: nationalrail.co.uk/stations/EXM/details.html and nationalrail.co.uk/stations/LYM/details.html
There are buses* from Exeter and Budleigh Salterton (Route 57 & 58)
Find travel information at traveldevon.info
*Larger mobility scooters may have difficulty with space on buses.
Scooter and other facilities
Countryside Mobility South West have helped set up a number of locations (60+) where you can hire a 'Tramper' (all terrain class 3 mobility scooter), including at the near by Powderham Castle for example: countrysidemobility.org/locations/powderham-castle
Exeter Community Transport Association also have a Tramper for hire and will also hire  scooters depending on the area it is to be used in: exetercta.co.uk
Route Map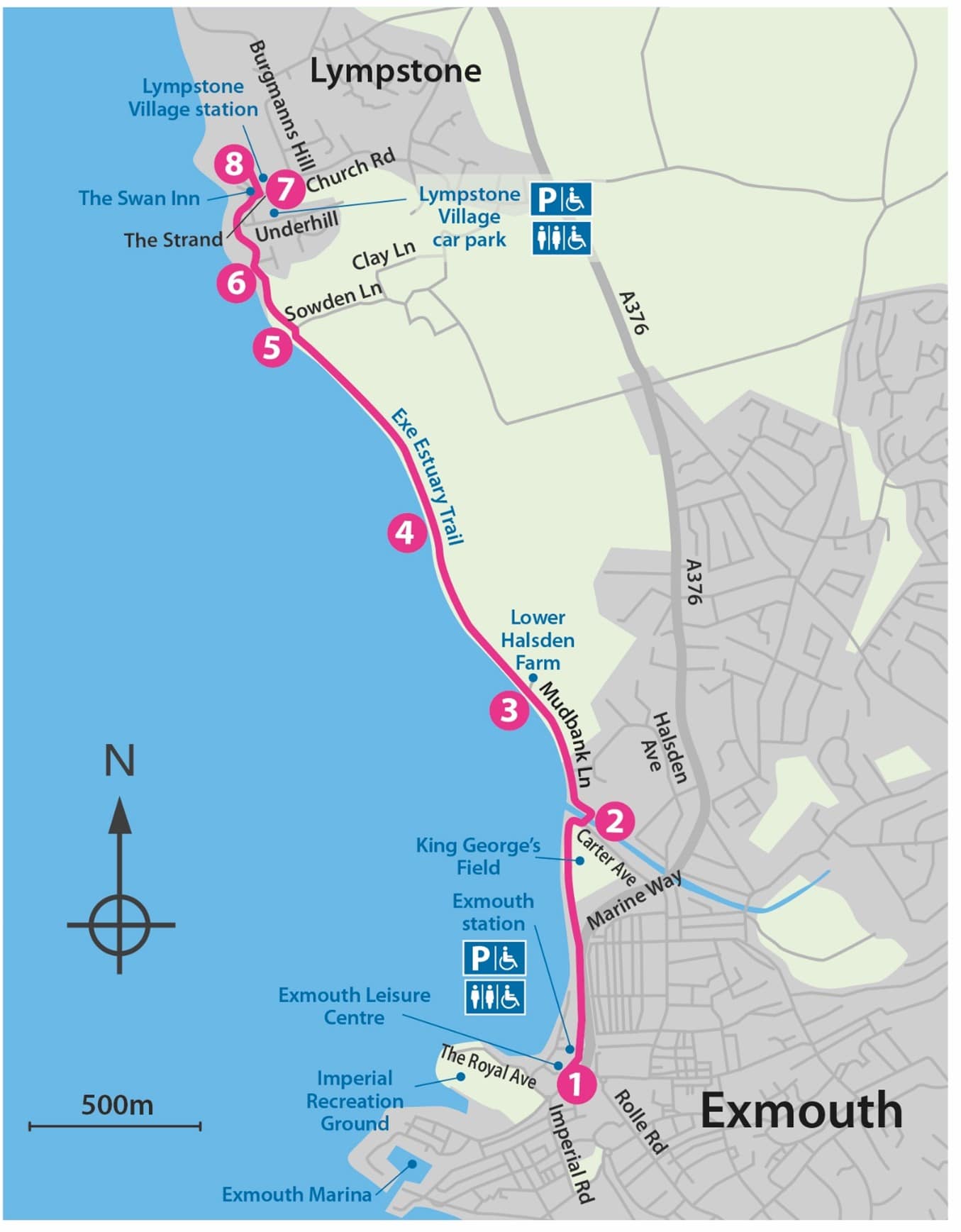 Route description
Starting at the entrance to Exmouth Train Station turn to the right and follow the pavement alongside the A376 away from Exmouth Town Centre and towards Exeter, with the railway line on your left and road on your right.After about 300m you will follow signs to the Exe Estuary Trail and join a path to the left.Please be aware this is a shared path with cyclists and walkers.
Follow this path along the edge of the railway line to where it joins Carter Avenue.  Turn left onto Carter Avenue. At the junction with Carter Avenue the pavement is narrow and the turn very sharp so a larger wheelchair or buggy may need to shuffle back and forth or cross into the road to get round.Follow Carter Avenue and bear left into Mudbank Lane keeping parallel with the railway line.
Follow Mudbank Lane until you get to the entrance to Lower Halsdon Farm. Here, bear left and follow signs for the Exe Estuary Trail.Lower Halsdon Farm operate a Seasonal tea garden usually open weekends between May and September.exmouthfoodanddrink.co.uk/1496/lower-halsdon-farm/
Here the Exe Estuary Trail is traffic free.  The surface is mainly tarmac, but there are short sections of wooden boardwalk. Some scooter users have reported that the sensation of driving over the boardwalk can be unpleasant as it is uneven and creates a rumbling sensation, however most of our access group did not find this a problem.
Follow the Exe Estuary Trail until you reach a T-junction with Sowden Lane.  You will turn left here to continue along Sowden Lane into Lympstone; clearly signposted as the Exe Estuary Trail.  At this point you are travelling along a road open to traffic so please be aware there may be cars.
As you come into the village of Lympstone the road is narrow with a high wall on one side which reduced visibility so take care.The track also ascends fairly steeply and then declines at a steeper gradient, however class 1 scooters should be able to manage the incline.
Lympstone is a beautiful historic village on the banks of the Estuary.  Toilets are located in the Village Car Park (EX8 5HH) from where you can also access the Strand via a ramped walkway.  Beware: this area is not well sign posted and you come straight out onto a road with no pavement, from between two houses.There are a few pubs, shops and a café to explore.
To continue along the Exe Estuary Trail toward Exeter, or to access the station to return via train, continue through the village on The Strand.  You will pass a tearoom and pub (The Swan Inn) on your right.  Turn right and follow the signpost to the Station up a steep hill.At the top of the hill the station is on your right and the Exe Estuary Trail continues through the station car park and across a rail bridge.  This is a steep section of the trail, but class 1 scooters should be able to manage the incline
Our route turns back at Lympstone and returns to Exmouth via the same route.  Re-trace the outward route to return to Exmouth.The route is clearly signposted at all junctions.Don't forget the right turn at Carter Avenue.