The Exe Estuary is one of the most highly designated sites in the South West and is protected for its globally important wildlife and habitats. The estuary is a feeding and breeding ground for thousands of birds, supporting internationally important populations such as Redshank, with Exminster one of only two places in Devon where they breed.
The Exe Estuary is the winter home to one percent of the world's population of Dark-bellied Brent Goose, which rest at high tide roosts and feed on eelgrass beds after a long migration from Siberia. Once a notable bird for any birdwatcher, the Little Egret is now a regular sight and also breeds on the estuary. Ducks to look out for include shelduck, red-breasted merganser, teal, wigeon, mallard, pintail and goldeneye.


Many different waders call the estuary home in winter including dunlin, oystercatcher, avocet, lapwing, black-tailed godwit, curlew, grey plover and redshank. Other birds to look out for include Slavonian grebe, kingfisher, cormorant, grey heron and mute swan. And don't forget the gulls, including great black-backed gulls, lesser black-backed gulls, herring and black-headed gulls.
Although it might not look like it at first glance, the tidal mudflats are home to an abundance of invertebrate species such as snails, worms and clams, making the estuary as rich in biodiversity as a tropical rainforest. A nationally rare bristle worm Ophelia bicornis can be found at Exmouth Local Nature Reserve. The reason why so many wading birds flock here in the winter is that the invertebrates are a vital food source, with each cubic metre of estuary mud containing the same calorific value as 14 Mars bars.
Dawlish Warren is designated as a National and Local Nature Reserve and encompasses a nationally important range of habitats, plants and animals. Botanically it is an incredibly rich area with 620 species of plant, including the rare Warren Crocus, which can be found at only one other location in the British Isles. The site also supports over 2000 different species of invertebrates including the Ruddy Darter, Hairy Dragonflies, and the Scarlet and Jersey Tiger Moths. In total over 583 different species of flowering plants have been recorded and over 260 species of fungi.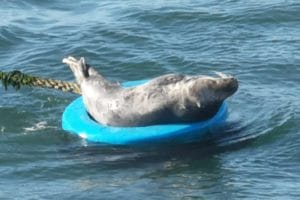 For those on the lookout for mammals, Grey Seals can be found basking on the sandbanks of the estuary and Otters can be seen exploring the upper estuary.
We welcome you to visit the Exe Estuary and please consider your impact on the wildlife you are hoping to observe. Birds are especially sensitive to disturbance and repeated disturbance can threaten their survival.
See our leaflet on wildlife in the Exe Estuary for more information.